What to do in Mexico City in just 5 days
When visiting Mexico City, you must know what to do beforehand. This is a big city and you could not know which places to visit. Add a limited time in the city, and you might end up listing more places than you can actually go to.
If you don't really know what to do in just five days, worry no more. Here in this post, you will find a recommendation of what to do in such a limited time.
From ancient ruins to modern art, you can visit the right places to learn about Mexican culture and fall in love with such a beautiful country.
Day 1: A trip to ancient times
At just 40 kilometers (25 mi) northeast of modern-day Mexico City, lies the largest city in the pre-Columbian Americas: Teotihuacan. The site covers approximately 83 square kilometers (32 sq mi) and was designated a UNESCO World Heritage Site in 1987.
In this archaeological zone you will find two specialized museums: the "Cultura Teotihuacana" museum and the "Murales Teotihuacanos" museum. Of course you must visit the most important monumental buildings such as the Sun and Moon pyramids, "La Ciudadela", the "Serpiente emplumada" temple and the "Calzada de los muertos".
Day 2: The city's historic center
Home to historic landmarks dating from as far back as the Aztec era, "Centro Historico" is the city's beating heart.
Centered around the "Zócalo" plaza, you will find iconic buildings to visit like Palacio de Bellas Artes, Edificio Postal, the Metropolitan Cathedral and "Templo mayor".
If you are a fan of beautiful paintings, you will find interesting to visit the buildings where Diego Rivera left his mark, like Palacio Nacional, Cárcamo de Dolores, the Diego Rivera Museum and the studio house of Diego Rivera and Frida Kahlo, whose work has been celebrated internationally as emblematic of Mexican national traditions and by feminists by his depiction of the female experience.

Day 3: A day in Puebla
We are talking about what to do in Mexico City in just 5 days. A visit to another city might seem odd, but once you are in Puebla, you will understand why it has its own day in this article.
Puebla is one of the most ancient cities in Mexico. It has more than 2,000 historic buildings, like Puebla's Cathedral, the Capilla del Rosario and Museo Amparo. In the Barrio del Artista you will find artists working in their studios and selling their crafts.
In Angelópolis you will find the Estrella de Puebla, a huge Ferris wheel with 54 gondolas in which you can admire the impressive view. At its feet are benches and fountains, an Art Garden and several restaurants. You will have a very pleasant time even if you don't dare to get on one of its gondolas.

Day 4: Museum day
You can visit two great museums in this day: Museo de Cera and Museo Ripley.
The Museo de Cera has a collection of about 230 figures of such famous people from different subjects, like art, history, politics, sports, fantasy and even horror films. It also has a mirror maze for you to have your daily dosis of fun.
The Ripey's museum is one of the most bizarre and interesting museums in all Mexico City. this museum 12 exhibition halls with unbelievable things like rat wine, shrunken human heads, a gigantic chinese coin made out of jade and much more.
Even though this is not a museum, you will love to visit the Estadio Azteca, the official home of football club América and the Mexico national football team. It has a capacity of 87,523, making it the largest stadium in Mexico. This stadium has a commemorative plaque of the "Game of the Century" played Italy and West Germany, as well as Diego Maradona's "Goal of the Century" against England.

Day 5: More interesting places to visit
Let's be honest. Who doesn't love to watch fish swimming around their pool? Doing it in the largest aquarium in all Mexico makes it even more enjoyable. The Acuario Inbursa is placed in a building with 5 stories of which 4 are underground. It has more than 10,000 animals of over 300 species and yeah, there are sharks. Enjoy it!
If you are looking for fine arts, you most visit the Museo Soumaya. It has over 66,000 works from 30 centuries including sculptures from pre-Columbian America, Mexican art and western art such as Salvador Dalí, Auguste Rodin, da Vinci, Monet and van Gogh. Its Plaza Carso building is by itself a piece of art.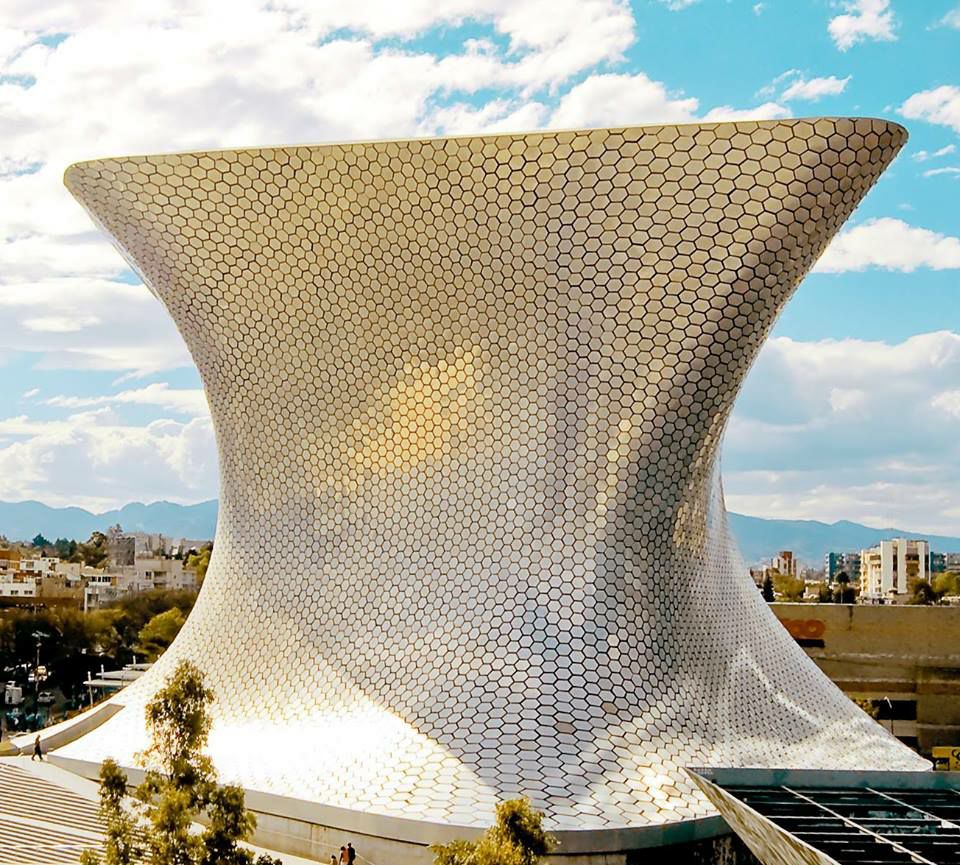 An incredible experience awaits for you
This are the things you can do in Mexico City in just 5 days. Obviously these aren't the only ones, so keep your eyes wide open while you are walking down the streets of the city, you could find more interesting places you will love and the best food to eat.
Whether or not you are still unsure about where to lodge, don't forget to read the article "Where should I lodge in Mexico City". You will find our recommendations to be very useful for your stay.
MEXICO CITY PRIVATE TOURS ✨